Block Club Chicago | Friends, Family Of Slain Youth Activist Caleb Reed Look For Permanent Home For A Mural In His Honor
The 17-year-old was part of the citywide movement to get police out of public schools. "Now we want to keep his legacy going," his friend said.​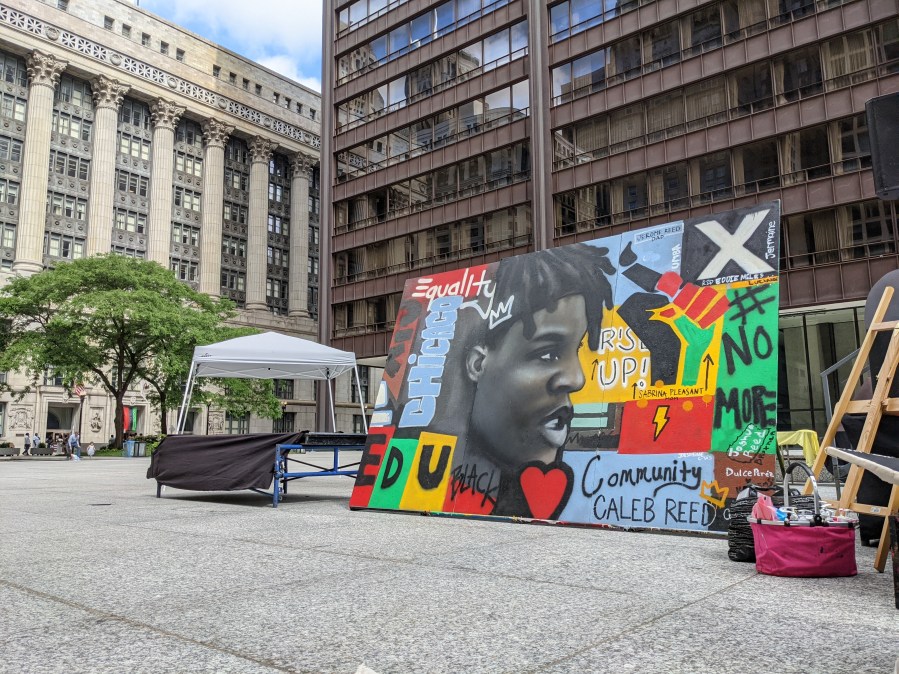 WEST RIDGE — This month marks a year since youth activist Caleb Reed was fatally shot near Emmerson Park.
As Reed's family and friends mourn the 17-year-old, they are trying to find a place to install a mural painted in honor of the organizer who was part of the movement to get police officers out of Chicago's public schools.
Reed's loved ones hope the mural can be displayed near Emmerson Park or Mather High School, where he would have been a senior. Ald. Andre Vasquez (40th) supports their efforts to find a place for it.
"Caleb wanted to better his community and shared his story about being arrested at a basketball game because he thought that once his voice was heard, that once he spoke up, changes would have to happen," said Marques Watts, one of Caleb's friends. "Now we want to keep his legacy going."
Balloons are released to honor Caleb Reed Aug. 4, 2020 in front of Mather High School, 5835 N. Lincoln Ave.
Reed was killed July 31, 2020, while walking down Granville Avenue near the park.
Authorities initially said Reed was shot by someone passing them in a car. Later, prosecutors charged Caleb's friend, Genove Martin, saying Martin shot at the car and mistakenly hit Reed.
Reed was taken to St. Francis Hospital, where he was pronounced dead. He would have graduated from Mather this year.
Reed had many quirks, his mother said. He loved Home Run Inn pizza and anime.
Read the full story
here!