Thank You For Making 2018 An Impactful Year For Communities Across Chicago!
Dear Friends,
As you share your memories with family and friends during this end of the year, we would like to share with you the incredible work you have supported over the year to advance racial equity and equal rights locally and nationally.
This year, hundreds of youth and adults from across the city joined efforts to lift up the need to address community trauma caused by decades of divestment in communities of color; made progress toward bringing long-awaited police reform to our city; secured over 225 rental units as affordable to keep families in our neighborhoods; and motivated over 3,500 voters to go to the polls.
All of this work was driven by youth and adults from across the city who took leadership and courageously shared their narratives to advance change, and forged strong partnerships with allied organizations to build power.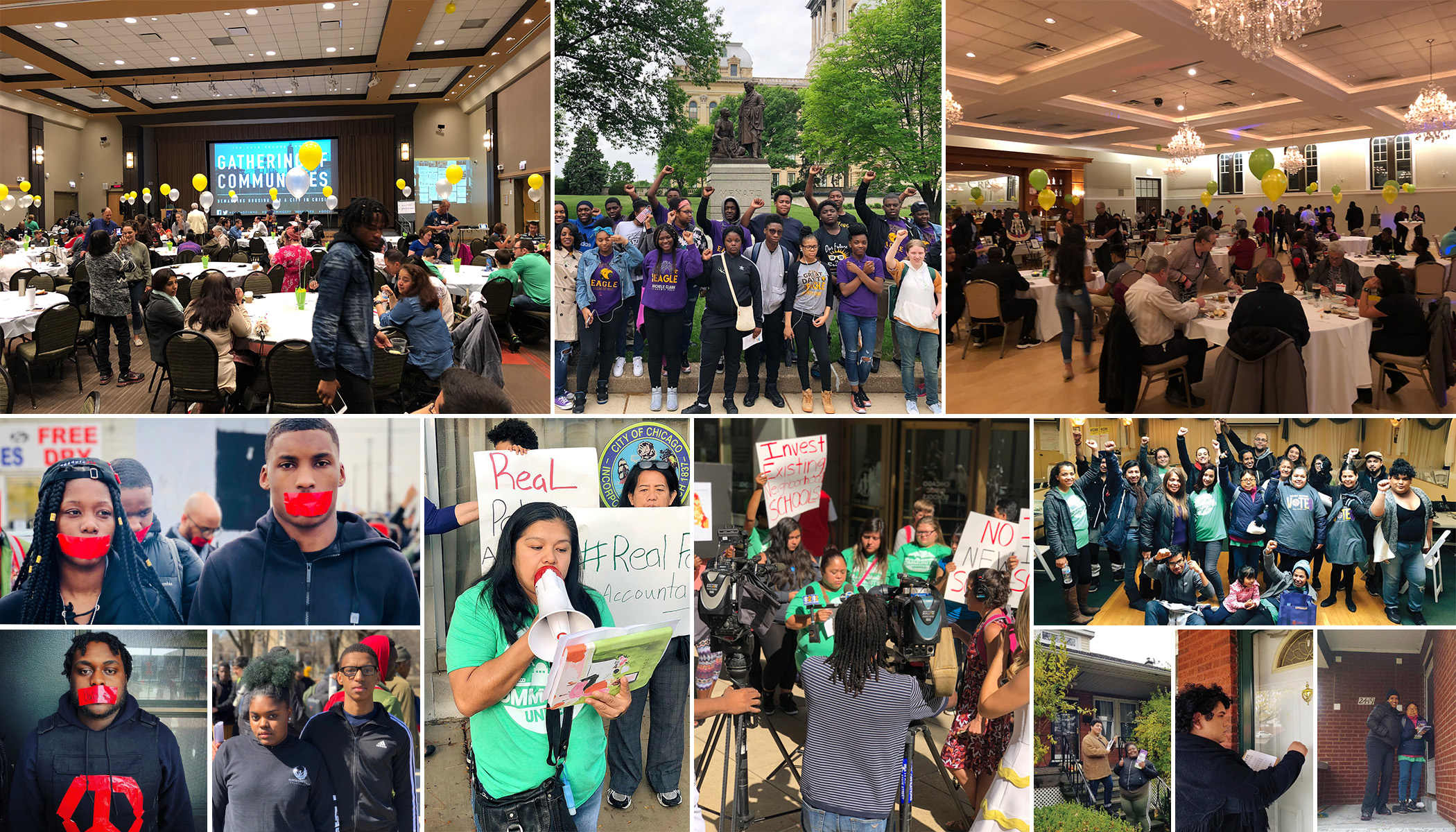 "In 2011, I was stopped and frisked by police over 80 times in 8 weeks. In one of those few events I was stopped, guns were drawn and some other physical harm was ensued! This constant stop and frisk by police led me to have self-doubt and fear the police. However, I turned my experience into power by being engaged with CU and working toward bringing police accountability to our city and be part in helping draft a consent decree, soon to be in effect!". -Albert Mejias
"As a mother of four, my kids are my priority. I want to ensure they have access to the same resources and opportunities as any other kid. Coming to a country not knowing the language, and experiencing the trauma of domestic abuse, I came to believed nothing could change. Joining other leaders at Communities United gave me strength to use my voice as a form of power. I used my voice to demand resources for our schools". – Mariana Reyes
As young Latina woman growing up, I saw my family deal with a long history of trauma. I didn't get the support I needed from family and friends during a traumatic period in my life, and slowly fell into depression. I've been organizing young people for the past year and educated our state legislators on the need to have more access to mental health and restorative justice programs in our schools to create pathways away from the criminal justice system." - Ruby Ruiz
Your support has allowed leaders like Albert, Mariana, and Ruby, transform their lives and the communities the live in through the organizing work at Communities United. In this giving season, consider giving a tax-deductible donation to Communities United, we count on your support to help 2019 be an even more impactful year for our communities.
Thank you!